From: $0.00 / month and a $425.00 sign-up fee
Testimonials bring credibility to your business. Over half of potential customers won't proceed with their purchase if you have multiple negative reviews. With an onsite testimonials review page, you remain in control what is shown. Included is the entry of 3 reviews.
Testimonials Page Options
We have configured the testimonials page with several options. If you don't see what you are looking for, please contact us for a quote.
Testimonials Page Layout
Why should you add a Testimonials page to your website?
Getting customers to leave positive reviews is difficult, and getting your customers to leave a positive review on Google, Yelp, or another online site is even harder. Your customers need to have an account with the appropriate platform and then still feel inclined to leave the review.
It's often easier to ask customers to write a quick review in-store or in response to a followup email  post-sale. You can then take this review and post it on your website so that your website visitors can check out your reviews without having to leave your site.
To the right, we show a standard reviews page layout. We recommend not all reviews you post are 5 stars, but rather mixed in with a few 4- and 3-star reviews for more authenticity, unless you only get 5-star reviews!
In the unfortunate event you receive a negative review online, then please check out our article about how to handle negative review here.
Of course, if you receive the negative review in store or via email, do your best to address your customer's concerns, but there is no need to publish the review on your website.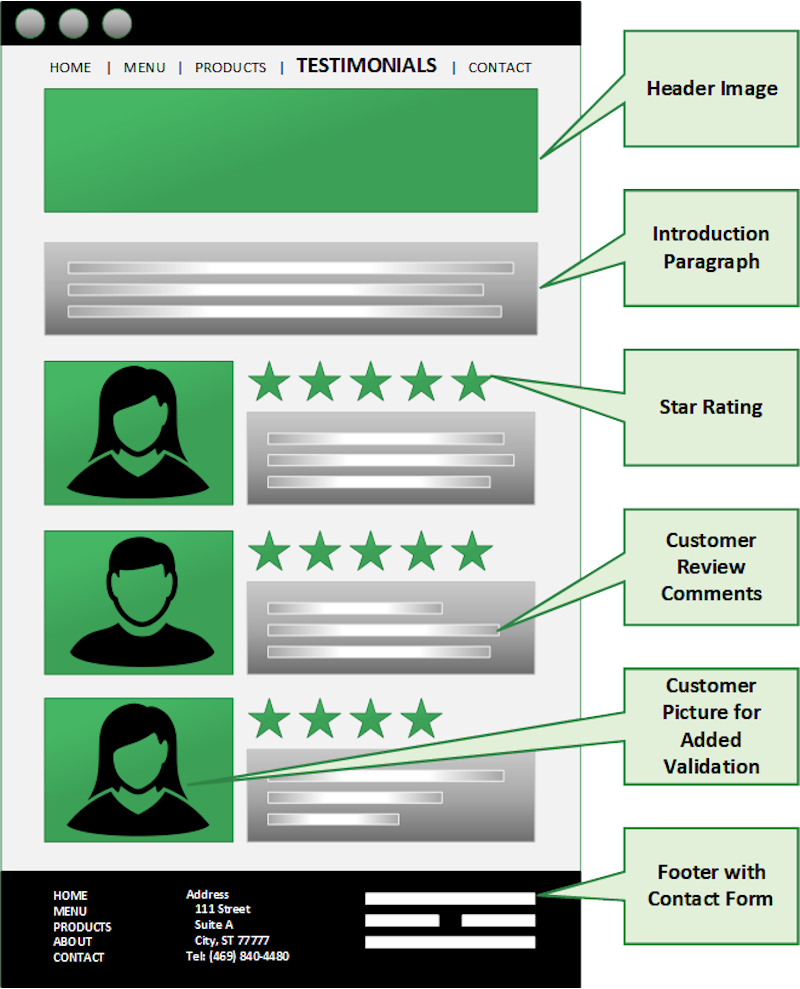 Testimonial Options
For our testimonials page we offer several options, including;
On Site Options:
Quote Testimonial Layouts are designed so you or your customers can enter Quotes directly to your website.
Video Testimonial Layouts are for those who are able to take videos of their customers talking about their experiences. The page would pull in video testimonial feeds from a YouTube account.
Case Study Testimonials are more complex and in-depth reviews of your customer's experience, common for Growers and Processors. Case Studies are more oriented for business-to-business testimonials.
Press Review Layouts for businesses who receive lots of press and magazine reviews and want to display these on their websites.
External Feed Options:
Live Google Review Testimonials are fed directly from your Google My Business account. Please note this option comes with an annual fee.
Reviews Feed and Management come with a review management platform that works right out of your website. Please note that this option comes with a monthly fee.
Get in Touch
(817) 864-1222
info@highrizemarketing.com
Open Hours
10 am - 4 pm   M - F
Our Locations
Dallas, TX
Longview, TX
Shreveport, LA