The Contact page is where your customers can get in touch with you, find support, and locate your store(s).
Select the number of business locations, the number of location pages (we recommend 1 page per location to boost SEO), the type of contact form you want, and whether you want to supply web copy or have High Rize write it for you.
Contact Us Page Options
We have configured the Contact Us page with several options. If you don't see what you are looking for, please contact us for a quote.
Contact Us Page
The main elements of the Contact Us page are contact details. The more ways you can provide your customers to contact someone, the better.
Ideally, you provide a form for customers to fill out, as well as an email address for customers who might prefer emailing you directly. You'll have to decide if receiving all your customer emails outweighs getting spam too.
Providing a physical address lends credibility to your business, assuring online customers that there is a location they can visit if there are unresolved issues.
A Google Map with directions to your location is especially important for dispensaries and businesses whose customers regularly visit their stores.
Larger stores may want to consider adding contact information for various departments and possibly include manager information.
As standard, we include the latest reCAPTCHA by Google to filter out robot form fillers. We offer 3 form options levels:
Standard Forms: Includes up to 10 regular fields 
Advanced Forms: Includes up to 20 fields along with lists, radio buttons and check boxes
Premium Forms: Includes up to 40 fields with conditional logic; this option includes additional plugin fees.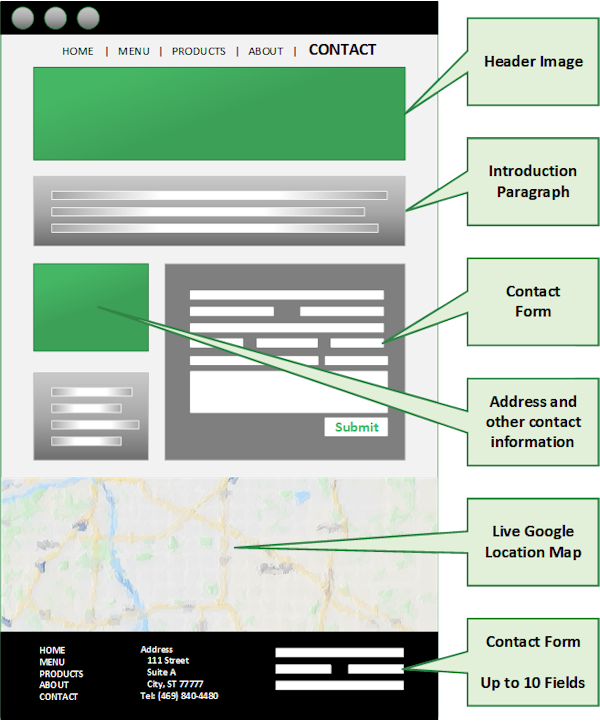 Number of Locations
The layout example shown in the section above is typical of a single-location Contact Us page layout; however, as your expanding business adds more dispensaries and stores, you'll want your customers to easily find the nearest address. The best page layout option depends on your number of locations. 
Single Location: You only need a single page with your location details.
2-4 Locations: W recommend easily listing your locations on a single contact page, like the example on the left. Upgrading to a Premium contact form enables customers to select which location they want to message.
5-15 Locations: We recommend a landing page with a list and map showing all your locations. We link each location to its own page with relevant information, like specials or stock availability.
15+ or Multi-City/State Locations: We recommend providing additional features like a "Location Search" or Geolocation finder that shows the closest store using GPS or Zip Codes. Please contact us for a custom quote for this type of Contact Us application.
Get in Touch
(817) 864-1222
info@highrizemarketing.com
Open Hours
10 am - 4 pm   M - F
Our Locations
Dallas, TX
Longview, TX
Shreveport, LA