From: $0.00 every 3 months and a $700.00 sign-up fee
A Blog Section is the best way to provide your customers with informational articles about your products and services. Sort each Blog Post by category and tags to make it easy for your customers to find what they are looking for. Blog posts are an effective way to build your authority with Google for SEO purposes. With our Blog Section, you can enable customers to leave comments or turn them off. We'll help you put the first post online; you can supply us with your article (please don't copy an article off the internet, as this will result in duplicate copy and hurt your site's ranking), or we can write one that is unique to your business.
Depending on the package you select, we can also write and post a Blog Article on a regular basis: we offer weekly, monthly, or quarterly plans. All plans are priced with a 12-month term. Contact us if you are looking for a different term period.
Blog Section Options
We have configured the Blog Section with several options. If you don't see what you are looking for, please contact us for a quote.
Blog Articles and Posts
You may have heard or read that having a blog is critical to the success of your marketing efforts, especially when it comes to SEO.
Having a blog on your website offers you with many benefits. Without a blog, your SEO efforts may be in vain, you also will have little to promote on social media besides promotions (that is unless you want to be seen as a discount dispensary).
Without a blog you will have difficulty building up authority both with search engines and your customers, and you will have fewer page to put those very important call-to-actions that generate inbound leads.
Ideally you can post a blog article every couple of days, but at the very least you should post an article once a month. Weekly is even better and if you make the articles informative, then you should see a healthy rate of new subscriptions.
Before you start writing blog post article, you should understand what makes a good post. You should know the answers to questions like "Why would someone keep reading your entire blog post?" and "What makes your audience come back for more?"
To start, a good blog post is interesting and educational. Your blogs should answer a reader's question and help them with a problem they might have.
Next you should provide actionable steps, while being entertaining.
You can also use examples to keep your readers interested in what you have to say.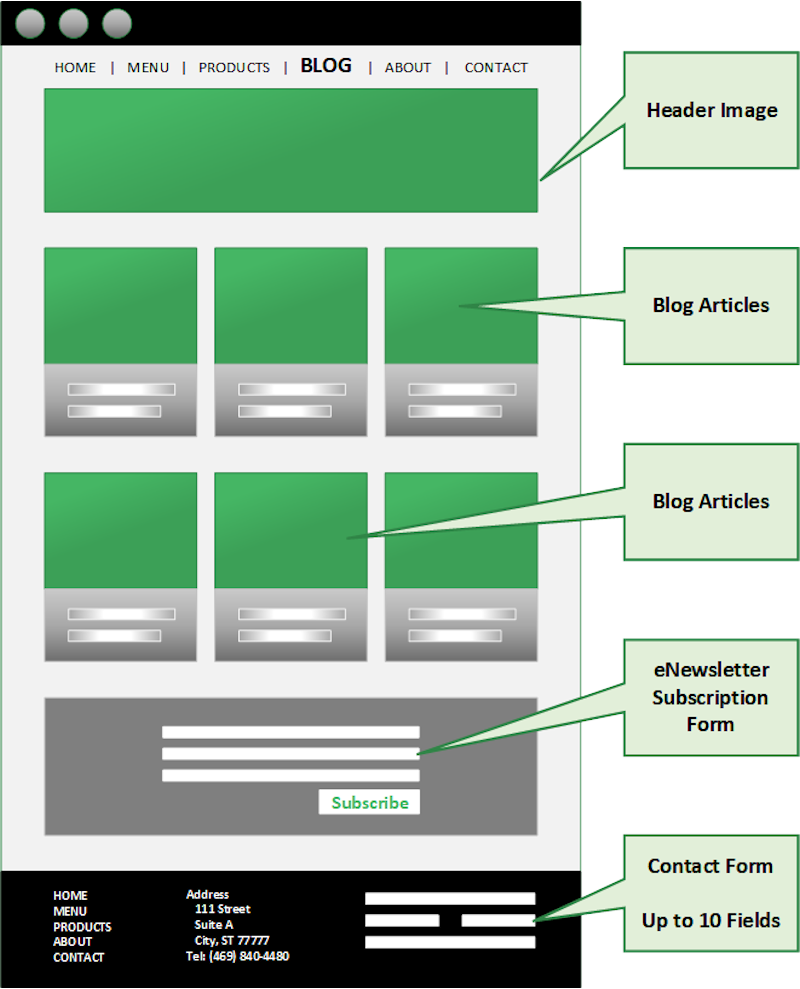 Blog Content Plan
High Rize offers several blog articles writing plans. We will write a unique blog article and post it to your website. Most articles will be between 600 and 1000 words, however there will be some variations depending on the topic.
We offer weekly and monthly article plans, with each plan we will write an interesting, factual, news, or time relevant article that is unique from any other site. Please note that we write multiple articles about the same topic, but we ensure that each one is composed differently. This will provide you with the SEO authority that blog article posts are so good at generating.
We also offer Social Media management and posts along with email marketing. Both of these are ideal ways to your message out to your customers. Please contact us for a custom quote.
Get in Touch
(817) 864-1222
info@highrizemarketing.com
Open Hours
10 am - 4 pm   M - F
Our Locations
Dallas, TX
Longview, TX
Shreveport, LA