From: $165.00 / month and a $975.00 sign-up fee
The Local SEO Boost Plan includes all the basics to build and manage your business's online presence. Appearing on Google Maps presents a clear picture of what your business is about, helps people find you, and monitors your Google reviews.
Your new Google My Business and Bing Places for Business accounts require regular monthly maintenance to stay current. With each regular maintenance plan, we schedule an analysis of your Google and Bing Business account according to the update plan selected, reviewing any suggested updates by Google and Bing to updating your listings as necessary. The maintenance plans also covers the annual renewal of the Aggregator listings and the reputation monitoring program.
Set up or Claim
Our process starts with setting up or claiming the included services. Many of these services will require verification that may include your assistance. We will also require access to your website's administration area to setup and install apps or verification codes.
Complete and Optimize
Once we have set up, claimed, and verified the services, we update the services with your business details as supplied in the questionnaire. Some of the services like the citations can take up to 2-3 months to complete and go live. Most other services only take a few weeks.
Maintain and Update
Google is constantly making updates to their services; therefore, it is critical that your business details are kept current, hours of operation are updated to include holidays and special times. The Data Aggregator accounts must be renewed yearly. It is highly recommended that you select the monthly update plan.
Featured Services Details
Google Analytics
Google Analytics is the premier website tracking service. Best of all, it is completely free. We set up an account and install the tracking code on your website. We share the analytics account with any Google Gmail accounts that you would like us to.
Once set up, you will be able to track visitors, see the country origins of your viewers, check out the response to your last email blast, and dozens of other statistics about your website. 
Google Analytics will help you understand which of your marketing efforts are generating the best results. It will also enable you to find which pages your customers stay on, and which ones they bounce off from.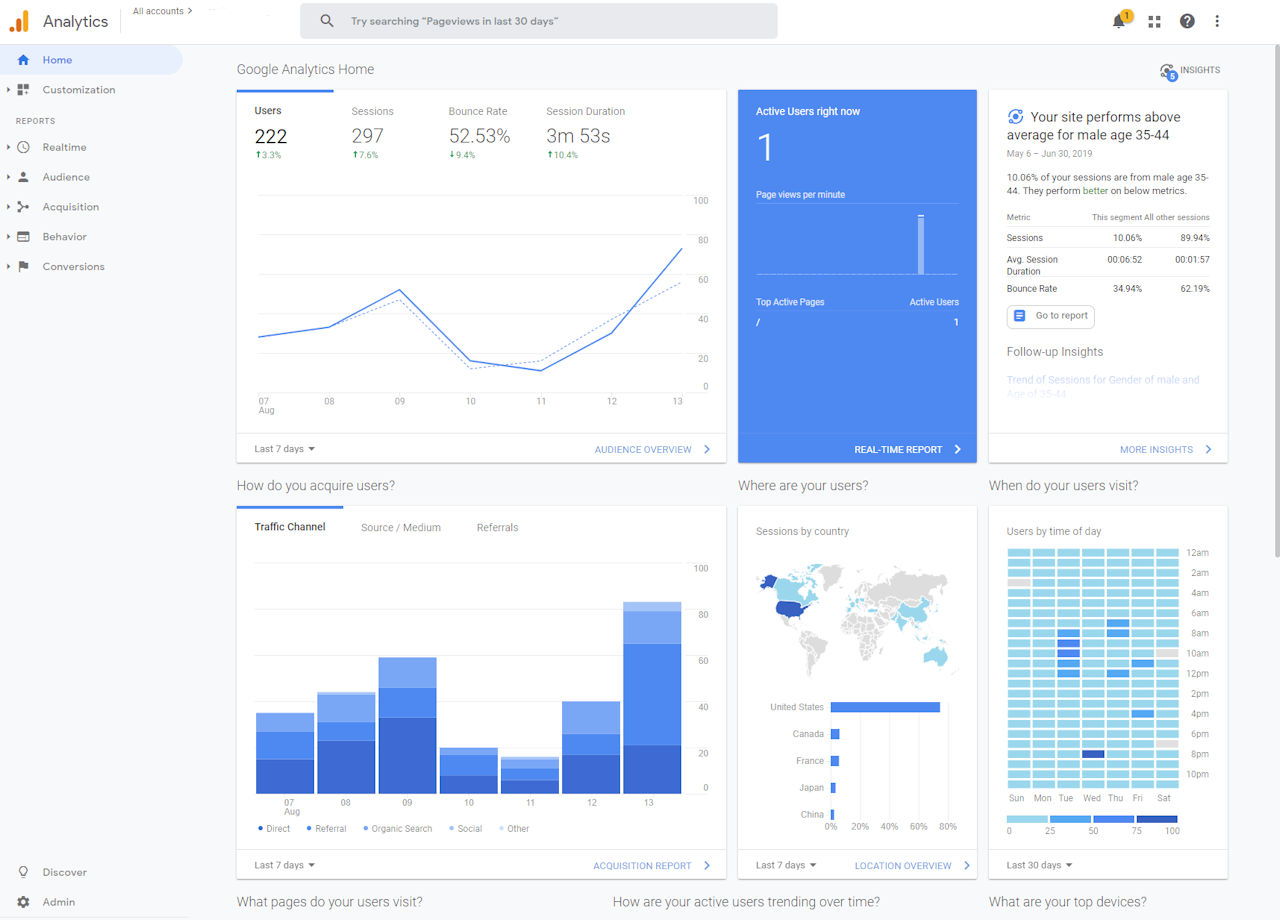 Google Search Console
Google's search console is the geared towards the professional and enables you to check indexing status and optimize the visibility of your website. It also comes with many other tools that enable to fine tune your website.
As part of the Google suite of website tools, it should be linked to your Google Analytics account to enable more features and better accuracy.
Here you will find which pages Google has indexed and if Google has found any errors on your website that might hinder it from indexing your remaining pages.
The Search Console will also monitor your site for security issues. It checks for embedded viruses and spam bots that may have been embedded by a hacker or rogue plugin.
 Google My Business
Google My Business is Google's central business hub that lets you manage how your business appears on Google Search and Maps. Here, you can manage your reviews, list your products and services, display your menu, show photos, and manage your hours of operation to include special holiday hours.
Google also provides detailed insights like how many people requested directions to your place of business, and the number of calls that were initiated from a map search or a click through a Google Ad.
You can even enable customers to message directly through Google My Business to your mobile devices. You can post specials, list events, or just a general informational post, like mini blog post that will show up in customer searches.
Google My Business is a powerful tool to help you market and manage your business online.
Bing Webmaster Tools
Bing provides several tools to help your business build its presence online on Bing's network. While Google definitely dominates the search engine market, Bing has reached a 20% market share in the United States. This figure is simply too large to ignore.
With the Bing Webmaster Tools, we are able to get a quick overview of the number of clicks you have received from Bing searches, search issues, search keywords, and the identity and number of pages indexed by Bing. 
This is all valuable information that we can review, apply, and act on to help your customers find your dispensary easier online. We claim, set up, and monitor your Bing Webmaster Tools as part of our monthly ongoing maintenance services.
Bing Places for Business
Bing Places for Business is Bing's answer to Google's My Business platform. It is a local business directory that enables business owners to list details about their business on Bing's search engine.
The benefits of also adding Bing Places for Business for your dispensary or farm are numerous; even with only about 20% market share, this can still translate into a lot of untapped business. Some of the additional benefits include:
Providing Bing with the information about your business that you want your customers to see rather than letting Bing trying to figure it out.
Improved visibility on Bing's search engines and maps.
Increased organic website traffic
With less competition on Bing as compared to Google, you should achieve results faster.
Yelp Account
Setting up your business on Yelp is paramount. Yelp is a review tool that enjoys a large and faithful following. Currently, Yelp has around 150 million visitors per month on a regular basis. Positive reviews can really help boost your business's credibility and drive more customers to your dispensary or farm as a result. However, the opposite is equally true with negative reviews that damage your customer traffic and revenue.
But the benefits of claiming and managing your Yelp account far outweighs letting it run on auto-pilot, and hoping that only positive reviews are posted. Some of the other main benefits of a Yelp account are:
Increased organic search traffic
Good reviews tend to provide more credibility than other review sites
Helps build trustworthiness and credulity in you and your business
Generate more leads and customers
Apple Maps
Apple Maps database of local businesses has been growing rapidly over the last few years. While it still is not as big and comprehensive as Google Maps, it is a great tool to bring customers to your dispensary. Research shows that Apple Maps are used 3 times as often as Google Maps on iPhones and iPads. This results in about 5 billion mapping requests per week.
The most popular way that iPhone and iPad users search is with a voice command to SIRI. So, it is imperative that your dispensary is found on Apple Maps when someone is searching for your business in your city.
We set up your dispensary or farm correctly on Apple Maps, including all your important information including hours of operation. Apple requires that we verify your business via a phone call where you will be provided with a PIN number.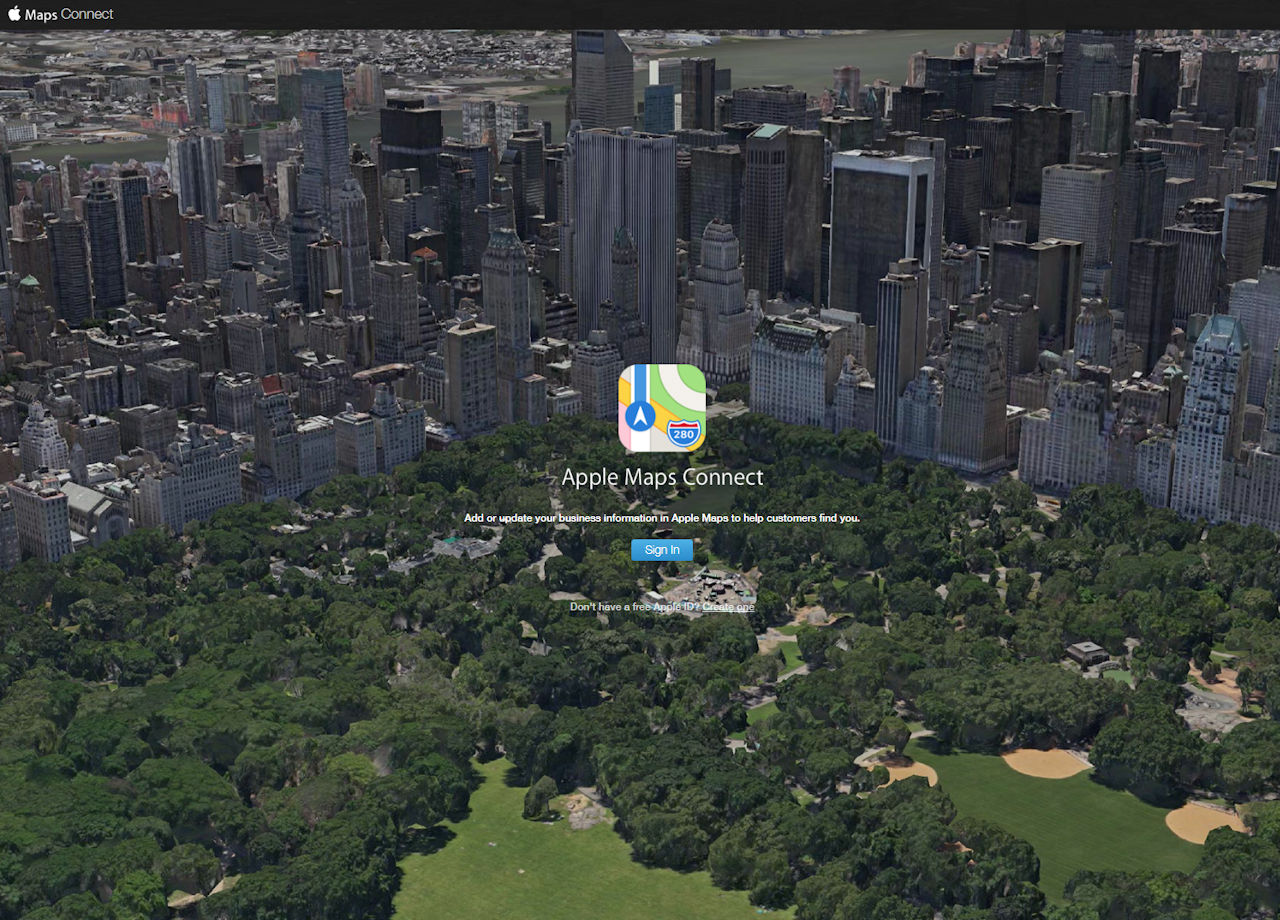 Facebook Setup and Posting
Facebook is the gorilla of social media platforms, though Instagram is rapidly gaining ground and, in some ways, has even over taken it. Nowadays, a Facebook presence is absolutely essential for the success of any business, especially for those within the cannabis industry.
Facebook enables you to post your latest news, specials, holiday hours, and fun social events. You can start building a following whom you can communicate with and give an incentive to return to your dispensary.
Finally, we can help advertise your dispensary or farm and its services on the second largest advertising network after Google. However, it takes discretion to stay within Facebook's guidelines, so we advertise your business very carefully. Check out paid advertising services on our Promotion page.
Local Citations
A local citation is any site online that displays the following details about your business; Name, Address, and Phone number. Or NAP for short.
Local citations provide multiple benefits for your business, including:
Driving customers to your website. Many of the citations include popular sites like Merchant Circle, Manta, Yellow Pages, and many more. These directories have high rankings and often show up high in search results.
The more accurate the

 

NAP

 

listings are, the more it will help your organic SEO results and the Google Local pack rankings. But for this to have an impact, your information must be consistent and accurate.
While there are many services that charge monthly or annually in order to keep your citations live, we only charge you once when we claim them. However, should you change your NAP, then there will be a charge to update all your listings.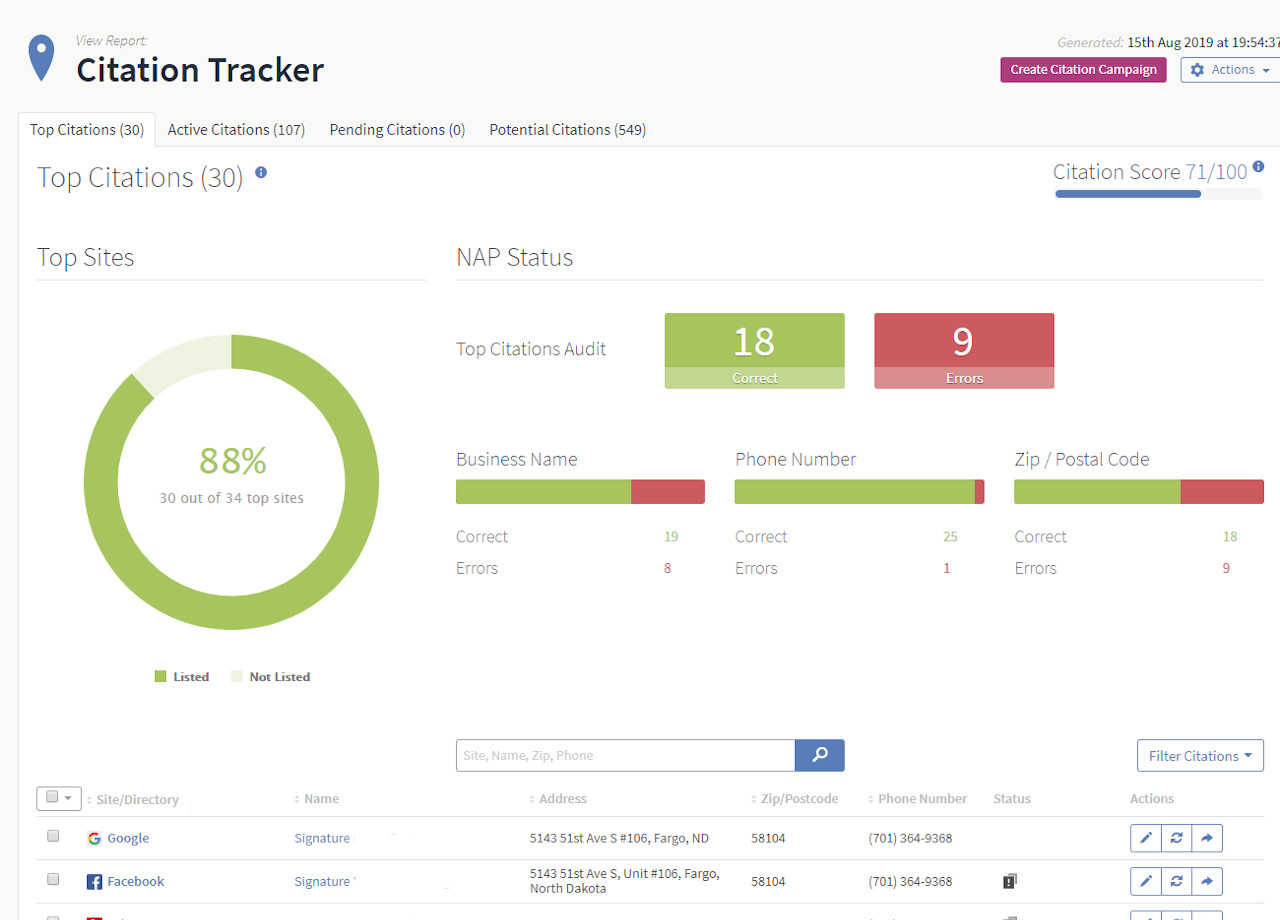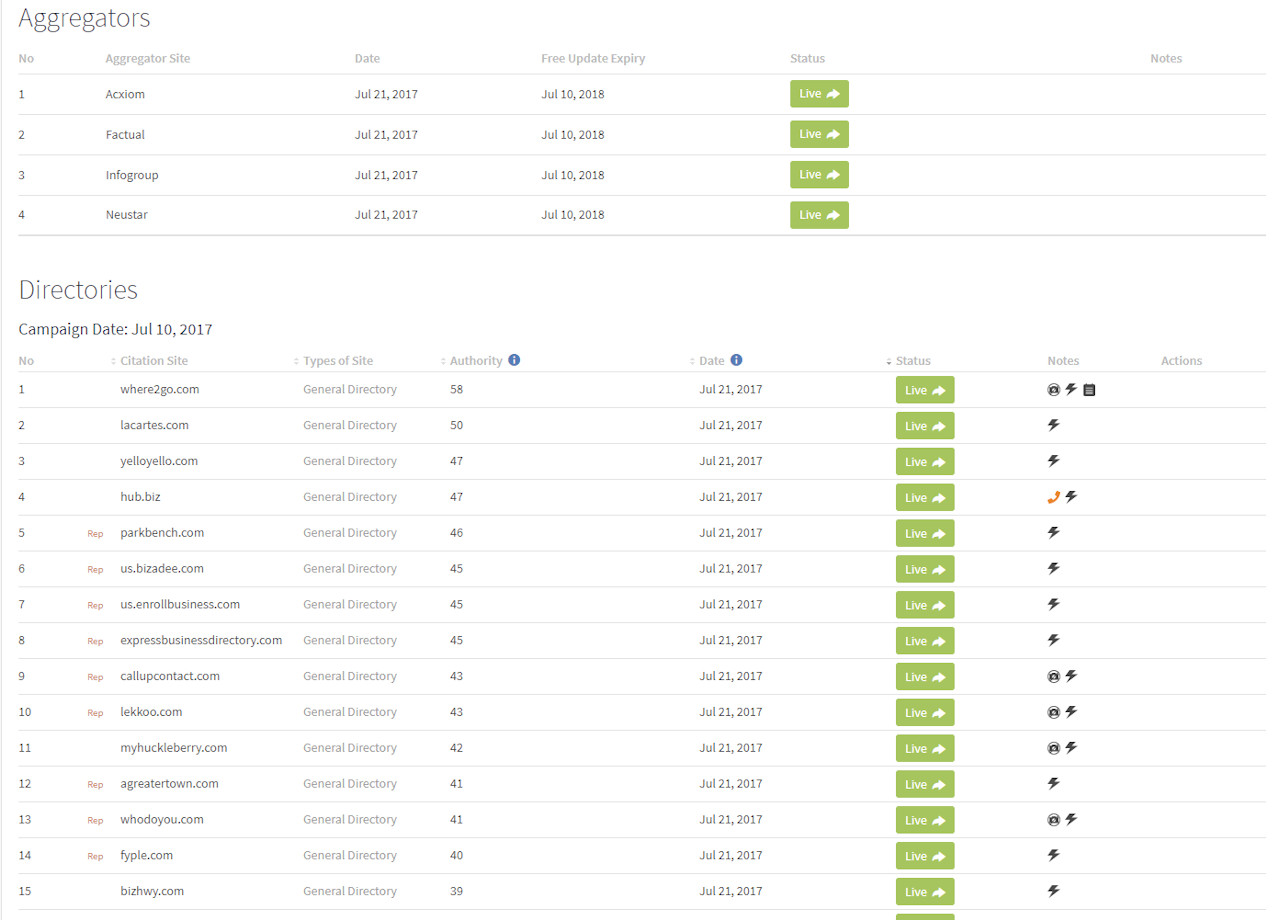 Data Aggregators
We will submit your NAP information to the 4 main Data Aggregators;
Infogroup
Neustar Localeze
Factual
Axciom
The Data Aggregators will then push your information out to dozens of directories and citation websites. We combine both manual and Data Aggregator listings for the best possible results and the widest coverage.
The Data Aggregator listing are an annual service and require renewal each year.
Reputation Monitoring
Our reputation monitoring service observes most of the biggest review sites for new evaluations, and it alerts you to any new reviews posted. Please note that we will need the account credentials of most of the sites to access the reviews.
You will also be able to respond directly to reviews posted on many sites through our interface. This is especially convenient when there are multiple sites that need responses.
We currently provide the most extensive support for customers located in the United States, United Kingdom, Canada, and Australia. But we also support customers in most countries on the main review sites like Google, Facebook, TripAdvisor, and Yelp.
Getting alerted when a review is left can be time sensitive if the review requires a response. The quicker your response time is, the more likely any issues will be successfully resolved and any damaging reviews are removed. 
Get in Touch
(817) 864-1222
info@highrizemarketing.com
Open Hours
10 am - 4 pm   M - F
Our Locations
Dallas, TX
Longview, TX
Shreveport, LA